This post may contain affiliate links. Please see my disclaimer.
A creamy lemon garlic orzo with prawns is the kind of meal I long for at the end of a busy day. It's a one-pot meal that's creamy, comforting, and packed with flavour. What's even better, you can have it on the table in a bit under 30 minutes!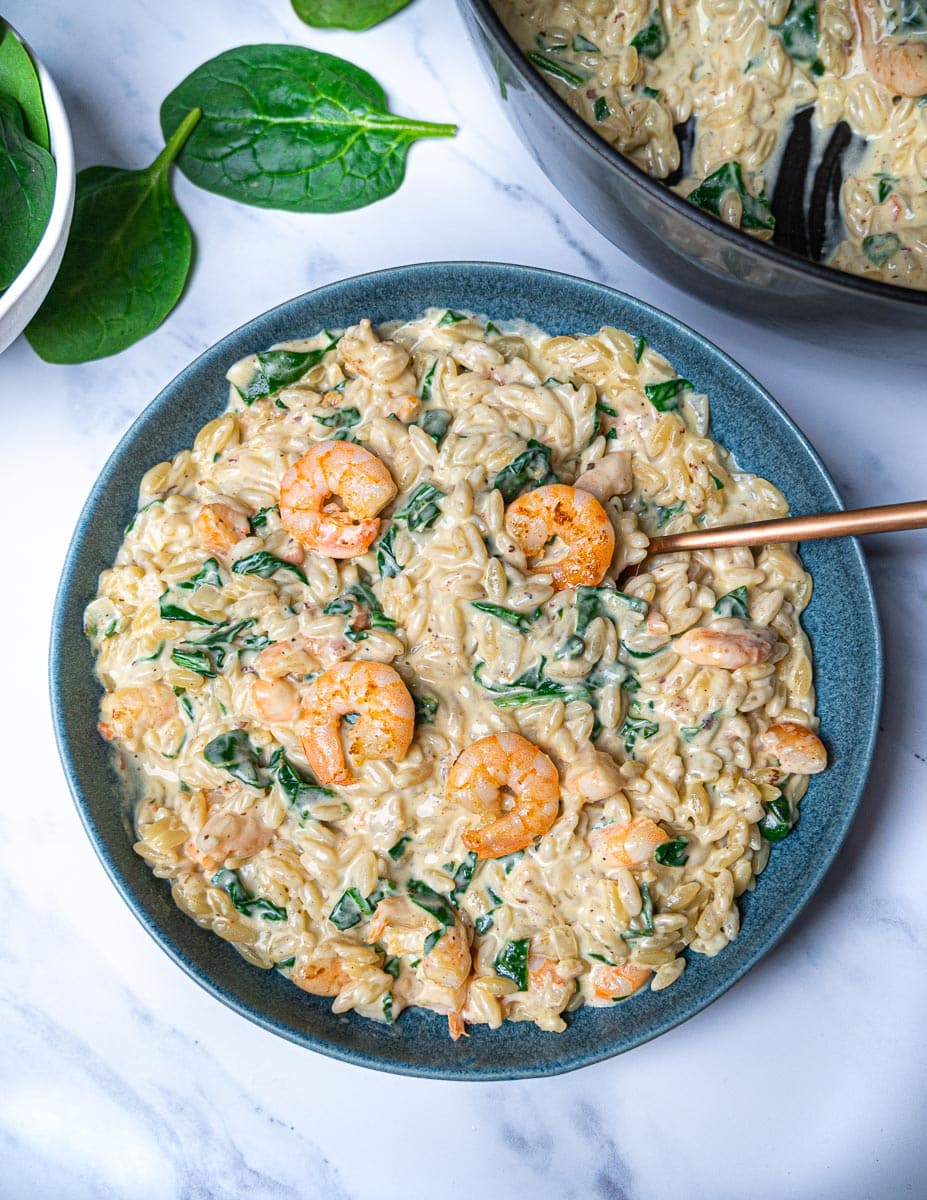 Creamy orzo recipes are not something that you stumble upon every day, but that's really got to change, in my opinion. Orzo is an often overlooked ingredient, and even though it looks like rice, it's actually pasta, and it cooks like pasta. This means it only takes 9-10 minutes to make orzo al dente.
Interestingly, orzo is called risoni in Australia, and I like that name so much better. We should all call it risoni, but unfortunately, that's not how languages work.
This is a super easy one-pot orzo recipe that I make with prawns because I'm a bit of a seafood addict, but you can also skip the prawns and make it vegetarian. It will still be incredibly creamy and delicious.
How do you cook orzo?
As mentioned above, orzo is, in fact, a type of pasta that just happens to be shaped like rice. You can use it as an alternative to rice to make risotto-style dishes. Subbing orzo for rice is actually a very good hack for busy people who don't have the time to stir into a regular risotto for 30 minutes.
It's also an amazing ingredient for pasta salads — I make this super flavourful, Greek-inspired orzo pasta salad with feta, kalamata olives, and wild rocket, and it's a perfect lunch that's ready in just 20 minutes.
You can boil orzo just like regular pasta, but one great tip I have for one-pot orzo recipes like this is to toast it in butter, just like you would do with rice for risotto. This will add a rich flavour that you can't obtain simply by boiling the orzo.
Recipe tips and tricks
If you want to cut down on calories, you can use single cream (half and half) instead of double cream.
I like to use baby spinach for this kind of recipe because it only takes a minute or two to be done, but you can sub it with other greens if you want, like kale, for example, or omit it altogether.
I tested this recipe with different lemon juice quantities, and I found that the perfect taste for me is given by one small lemon. If you don't like to feel the lemon too much, only use half of that.
The orzo to stock ratio is just the right one, even if it looks like there's way too much liquid in there. Remember that orzo is pasta, so it will continue to absorb the liquid while cooling down.
I know that parmesan and prawns is a frowned upon combo, but I don't care — I still like how the parmesan takes this lemon garlic orzo to a whole new level. Feel free to omit it if you feel like it will overwhelm the flavour of the prawns.
If you enjoyed this creamy spinach and parmesan orzo with prawns, you might also like:
Easiest Ever Creamy Chicken Fajita Pasta
Easiest Ever Creamy Prawn Linguine (Linguine con Gamberi)
Tagliatelle ai Funghi (Pasta with Mushrooms)
Easy Smoked Salmon Tagliatelle
Yield: 4
Creamy Lemon Garlic Orzo with Prawns
A creamy lemon garlic orzo with prawns is the kind of meal I long for at the end of a busy day. It's a one-pot meal that's creamy, comforting, and packed with flavour. What's even better, you can have it on the table in a bit under 30 minutes!
Ingredients
1 tbsp olive oil
250 g (1/2 lb) prawns
25 g (1/4 stick) butter
1 shallot, finely chopped
4 garlic cloves, minced
1/4 tsp dried thyme
250 g (1 1/4 cup) orzo
500 ml (2 1/2 cups) vegetable or chicken stock
125 ml ( 3/4 cup) double cream
75 g ( 2 cups) baby spinach
Juice of one small lemon
30 g (1/4 cup) Parmesan cheese, grated
Freshly ground black pepper
Instructions
In a large pan, heat the olive oil and shallow fry the prawns for 3-4 minutes over medium heat until they change color. If you use frozen prawns, fry them for a couple of minutes more or until there's no more liquid left and they start to become golden. Remove the prawns from the pan and set them aside.
Melt the butter in the same pan and fry the shallot for a minute. Add the garlic and continue to cook for 30 seconds until fragrant. Stir in the dried thyme, and then add the orzo to the pan. Toast it for a minute, stirring often, then add the stock.
Lower the heat and simmer for 10 minutes or until the orzo is al dente. Stir in the double cream, then add the baby spinach to the pan. Continue to cook for 1-2 minutes until the spinach wilts a bit.
Transfer the prawns back to the pan, then add the lemon juice and Parmesan cheese and stir everything well. Season to taste and serve immediately.
Nutrition Information
Yield
4
Serving Size
1
Amount Per Serving
Calories

487
Total Fat

25g
Saturated Fat

13g
Trans Fat

1g
Unsaturated Fat

10g
Cholesterol

189mg
Sodium

904mg
Carbohydrates

41g
Fiber

4g
Sugar

5g
Protein

26g
Nutritional information is an estimate provided by an online nutrition calculator.