Craving pasta but don't want to put in the time? These spaghetti all'Amatriciana only take 30 minutes to make and the result is fabulous. They taste great with wholemeal spaghetti, too.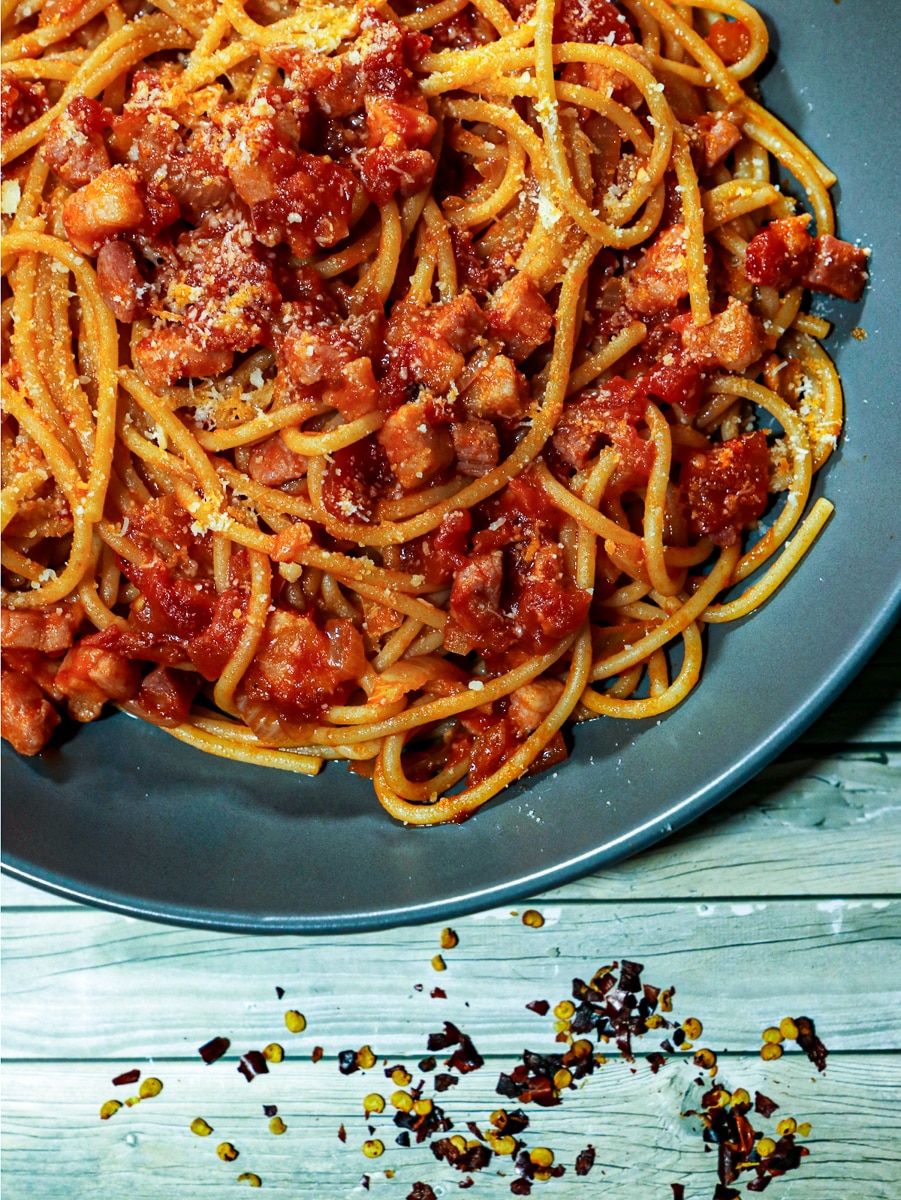 There are days when I can't be bothered to cook dinner, but I've reached a point in my life where the thought of ordering takeout fills me with dread. So instead of gambling with food prepared by other people which I know I'll find fault with no matter what, I get to the kitchen and whip up something delicious that 99% of the time includes pasta. Like this recipe, for example.
Spaghetti all' amatriciana is something that everyone has a recipe for and I was actually wondering if the world truly needs another one. It's one of those sauces that packs a punch, so if you don't like chilli, this is not the pasta for you (or you can go very easy on it, but the result will not be as spectacular).
What kind of pasta to use for Amatriciana sauce?
Many of the recipes you'll encounter call for bucatini, which is a sort of thick spaghetti-like pasta with a small hole in the middle. Kind of like a spaghetti / macaroni hybrid. They are amazing for amatriciana, indeed, but I live in the UK, where bucatini are not too present on the shelves of supermarkets, so I only use them very rarely.
The good news is that you can use spaghetti successfully for all'amatriciana, and you would also get good results with other long-type pasta, such as linguine. The sauce is not particularly suitable for short pasta, because it doesn't have big bites in it.
What ingredients do you need for spaghetti all'amatriciana?
You'll find all sorts of variations for spaghetti all' amatriciana ingredients, ranging from using a dash of Worcester sauce (why, BBC Good Food user community?) to adding honey (are you kidding, Chowhound?).
This is an ancient recipe favored by shepherds from the Amatrice region in Lazio, and I very much doubt they had access to a dash of Worcester sauce. All you need for spectacular, authentic all' amatriciana is the following:
Extra virgin olive oil
Guanciale (this is tricky in some areas, including the UK, so you can substitute with pancetta)
Onion, finely minced
Crushed red pepper flakes
Garlic, minced
Spaghetti or another form of long pasta
Freshly ground black pepper
Freshly ground Himalayan salt
Pecorino cheese
Peeled tomatoes in juice, crushed
Dry white wine (optional)
And that's it. The guanciale is very difficult to find in the UK, and possibly in many other parts of the world outside Italy, so I generally make it with pancetta.
How do you make pasta all'amatriciana?
Boil the pasta according to the instructions (make sure the water is salty enough, as this is very important for the final result. They say it should be as salty as the Mediterranean, so do your best there.) The pasta should be just al dente.
Heat the oil in a large pan over medium heat, add the pancetta, and saute it for 3-4 minutes, until crisp. Add the black pepper and chilli flakes, and stir. Add the onion and garlic and cook until soft (about 6 minutes). If you use wine, now's the time to add it in. Add your crushed tomatoes and cook on low heating until the sauce is thick (about 15 minutes). Mix the boiled pasta in, add the pecorino cheese, and serve immediately.
Yield: 4
30-Minute Spaghetti All'Amatriciana
These spaghetti all'Amatriciana only take 30 minutes to make and the result is fabulous. 
Ingredients
2 tbsps extra virgin olive oil
120 g guanciale or pancetta
250 grams spaghetti or other long-form pasta
1 can peeled tomatoes, crushed
1 medium onion, finely minced
2 garlic cloves, minced
25 g pecorino cheese
1/2 tsp chilli flakes
1/2 tsp freshly ground black pepper
50 ml dry white wine (optional)
Instructions
1. Boil the pasta according to instructions, being careful not to go over the al-dente phase.
2. In the meantime, heat the olive oil in a large pan, add the guanciale or pancetta and cook for 3-4 minutes until crisp.
3. Add the black pepper and chilli flakes, stir a couple of times, and then add the onion and garlic. Cook for 5-6 minutes until soft. If you use wine, add it now and let it evaporate.
4. Stir in the crushed tomatoes and cook for 15 minutes until the sauce is thick.
5. Add the pasta to the sauce and toss it until the pasta is coated. Season with salt, stir in the Pecorino cheese, and serve immediately.
Nutrition Information
Yield
4
Serving Size
1
Amount Per Serving
Calories

468
Total Fat

31g
Saturated Fat

10g
Trans Fat

0g
Unsaturated Fat

20g
Cholesterol

35mg
Sodium

1203mg
Carbohydrates

34g
Fiber

2g
Sugar

3g
Protein

10g
Nutritional information is an estimate provided by an online nutrition calculator.