A delicious meal that's naturally vegan, this one-pot easy lentil and chickpea curry is perfect for those days when you don't have much time but still want a nutritious dinner.
This easy lentil and chickpea curry ticks all the boxes for the perfect weeknight dinner: it's easy to make, healthy, plant-based, budget-friendly and super tasty.
You don't need any fancy ingredients to make a delicious chickpea and lentil curry; I typically have everything I need at all times so I can whip it up quickly.
An easy lentil and chickpea curry
It only takes about 45 minutes to make this filling chickpea and lentil curry, and you don't need to presoak the lentils to make it. You can even take a shortcut and use precooked lentils to cut the cooking time even more and have the curry ready in 30 minutes!
Because it has lots of fibre and protein from the chickpeas and lentils, this curry is super filling and satisfying. You can serve it with naan bread, rice, or chapatti for a complete dinner.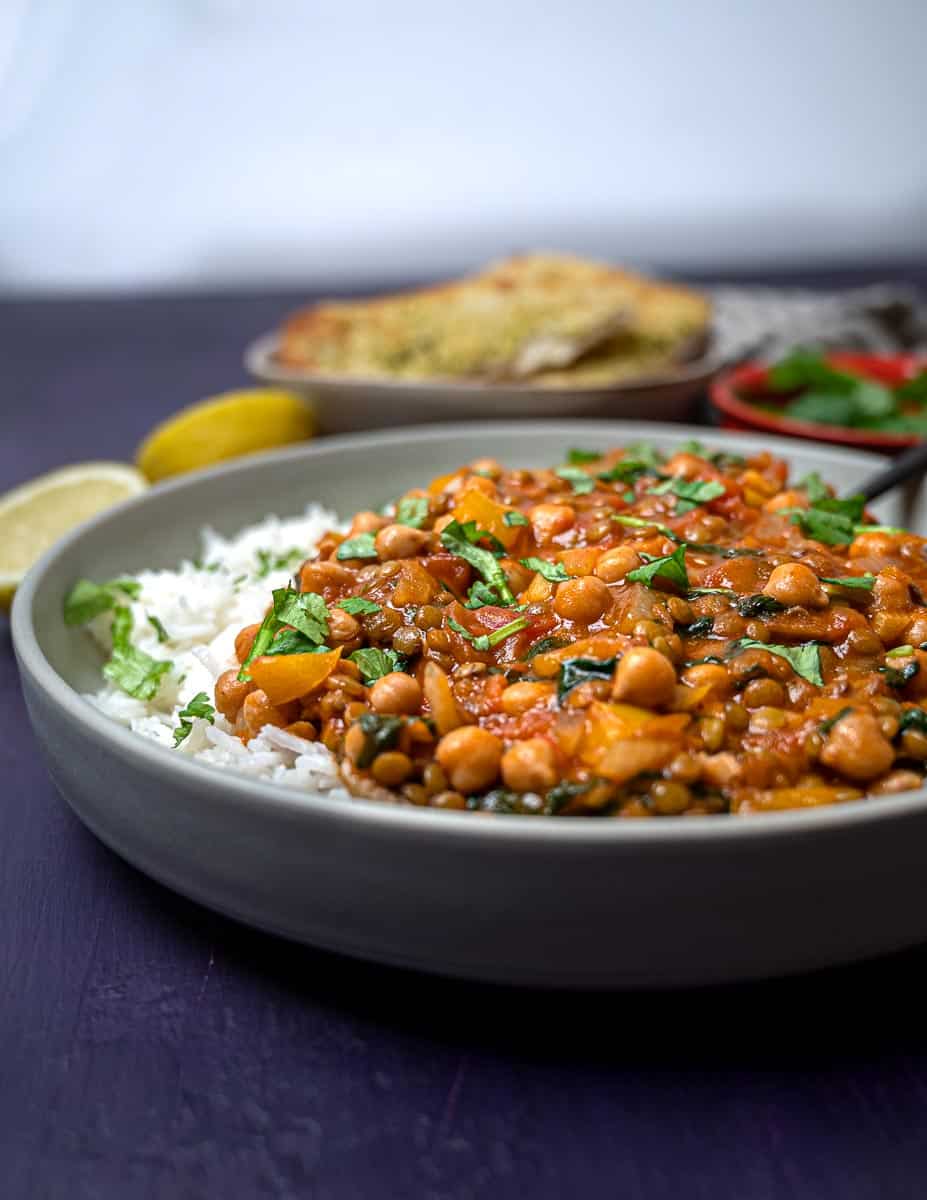 How to make creamy chickpea curry?
Heat the coconut oil in a deep pan and fry the onion and green pepper for 7-8 minutes over medium heat until they soften.
Add the garlic and ginger and continue to cook for 30 seconds until fragrant. Add the ground cumin, garam masala, ground coriander, and cayenne pepper and fry gently for 1 minute.
Stir in the chopped tomatoes and coconut milk, then add the green lentils and chickpeas. Bring to a boil, lower the heat and cook with a lid on for 25 minutes or until the lentils are tender and the liquid reduced.
Stir in the spinach and cook for another minute until just wilted, then stir in the lemon juice. Serve with rice, naan bread or chapattis.
What to eat with this curry?
Rice and naan bread both work great with this vegan coconut chickpea curry, but you can also serve it with chapatti, brown rice, or even quinoa.
Can I freeze chickpea curry?
Yes, this is a vegan curry that freezes well. Place it in freezer-friendly containers once it's cooled down and freeze for up to a month. To reheat, defrost the curry overnight in the fridge and then reheat it on the hob or in the microwave, making sure it's piping hot.
Variations and substitutions
You can add other veggies to this chickpea lentil curry, such as other types of sweet peppers, sweet potatoes, or mushrooms.
Play with the spices to make the curry as fiery as you want. The curry has just a bit of a kick from the cayenne pepper, but if you want it fiery, add more cayenne pepper and perhaps some red chilli flakes.
Cut the cooking time in half by using precooked lentils from a pouch or a tin instead of raw ones. You can also substitute the green lentils with red lentils, which will result in a mushier texture but will cook faster.
Use low-fat coconut milk to cut down on calories if you want, but keep in mind that the curry might not be as creamy.
Add one teaspoon brown or coconut sugar with the chopped tomatoes to balance the spices.
If you liked this easy lentil and chickpea curry, you might also like some of my other easy vegan curry recipes:
Aubergine Thai Red Curry with Peppers
Thai Sweet Potato Curry with Spicy Chilli Peanuts
Aubergine and Red Lentil Curry
Instant Pot Cauliflower and Cashew Curry (Vegan)
Looking for more delicious inspiration? 😄 Follow Skinny Spatula on Instagram, Facebook, and Pinterest!
Yield: 4
Easy Lentil and Chickpea Curry
A delicious meal that's naturally vegan, this one-pot easy lentil and chickpea curry is perfect for those days when you don't have much time but still want a nutritious dinner.
Recommended Products
Nutrition Information:
Yield:
4
Serving Size:
1
Amount Per Serving:
Calories:

503
Total Fat:

31g
Saturated Fat:

24g
Trans Fat:

0g
Unsaturated Fat:

4g
Cholesterol:

0mg
Sodium:

50mg
Carbohydrates:

47g
Fiber:

13g
Sugar:

10g
Protein:

16g
Nutritional information is an estimate provided by an online nutrition calculator.