This mouthwatering smoked salmon risotto is naturally creamy for a luscious yet light dinner. It gets an extra kick from the rocket and it's super easy to make with just a handful of ingredients.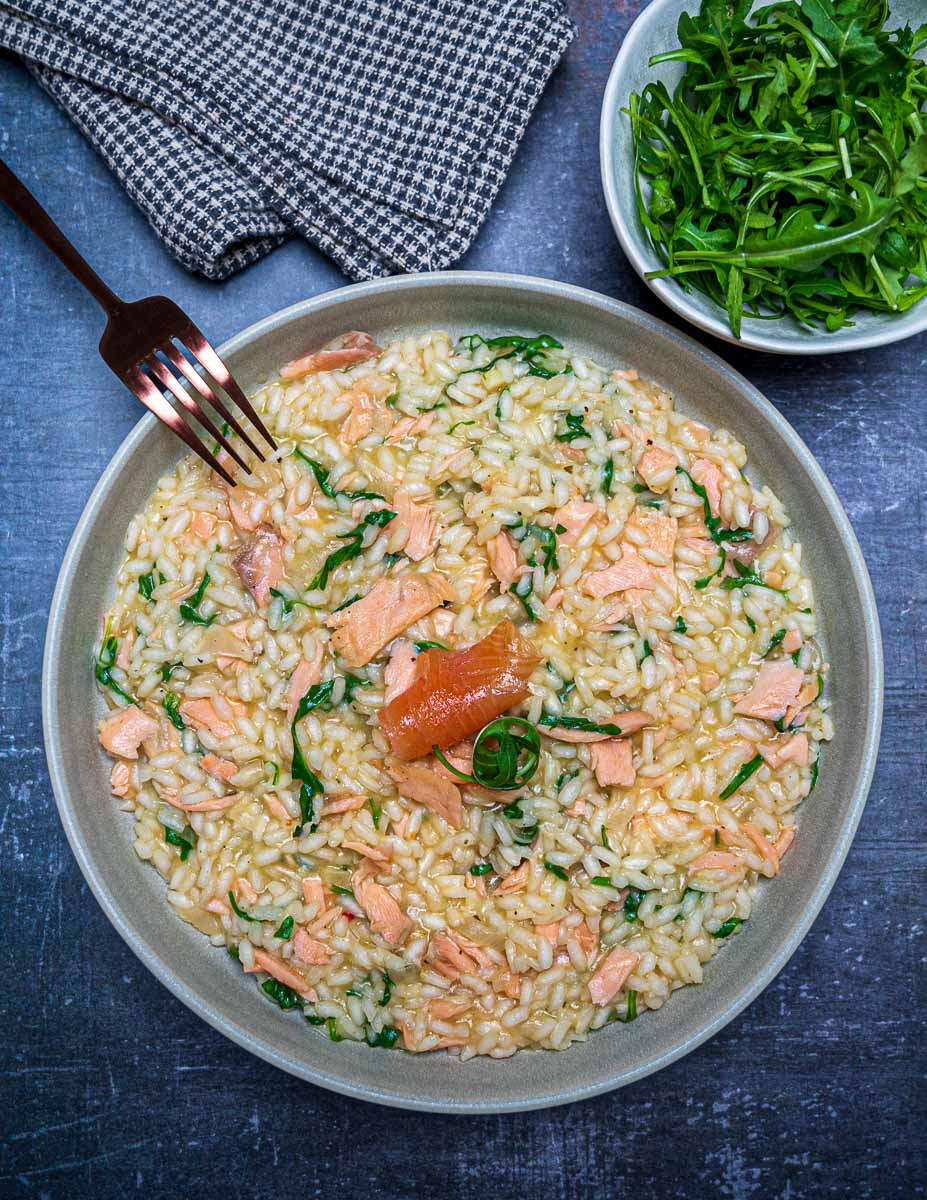 If you've never had salmon risotto, it's really time to try it. A fish lover's dream, this creamy salmon risotto is ready in just 40 minutes, doesn't require a lot of stirring, and it's a dish that makes mealtime feel special.
I love just about any kind of risotto — have a look at my Mushroom and Walnut Risotto with Taleggio and Easy Lemon Prawn Risotto — but this salmon risotto is really special.
That's not just because the combination of smoked salmon and rocket is a bit unexpected in a risotto, but also because you only need a handful of ingredients to make it.
This risotto is naturally creamy, so you don't have to add any cream or extra butter at the end (unless you want to make it extra creamy, in which case go ahead and add a bit of butter right at the end).
What do you need to make this risotto?
As I mentioned above, this risotto only requires a couple of ingredients.
Butter — I typically use olive oil as the base for risottos (to fry the onion and toast the rice), but I chose butter for this recipe because I feel it pairs better with the smoked salmon.
Carnaroli rice — this is the best rice to use in a risotto for creamy results. You can substitute it with Arborio rice (but avoid any kind of rice that's not super starchy).
Smoked salmon — I think 200 grams (7 oz) is the perfect quantity to use in this risotto, but feel free to add more or less to suit your taste. Also, remember that smoked salmon is salty, so only add salt to the risotto after tasting it with the salmon in.
Dry white wine — any dry white wine works in this risotto. I typically use some Sauvignon Blanc or Pinot Grigio.
Rocket — or arugula if you're in the US. Its fresh, peppery, and slightly bitter flavour is an excellent companion for the smoked salmon.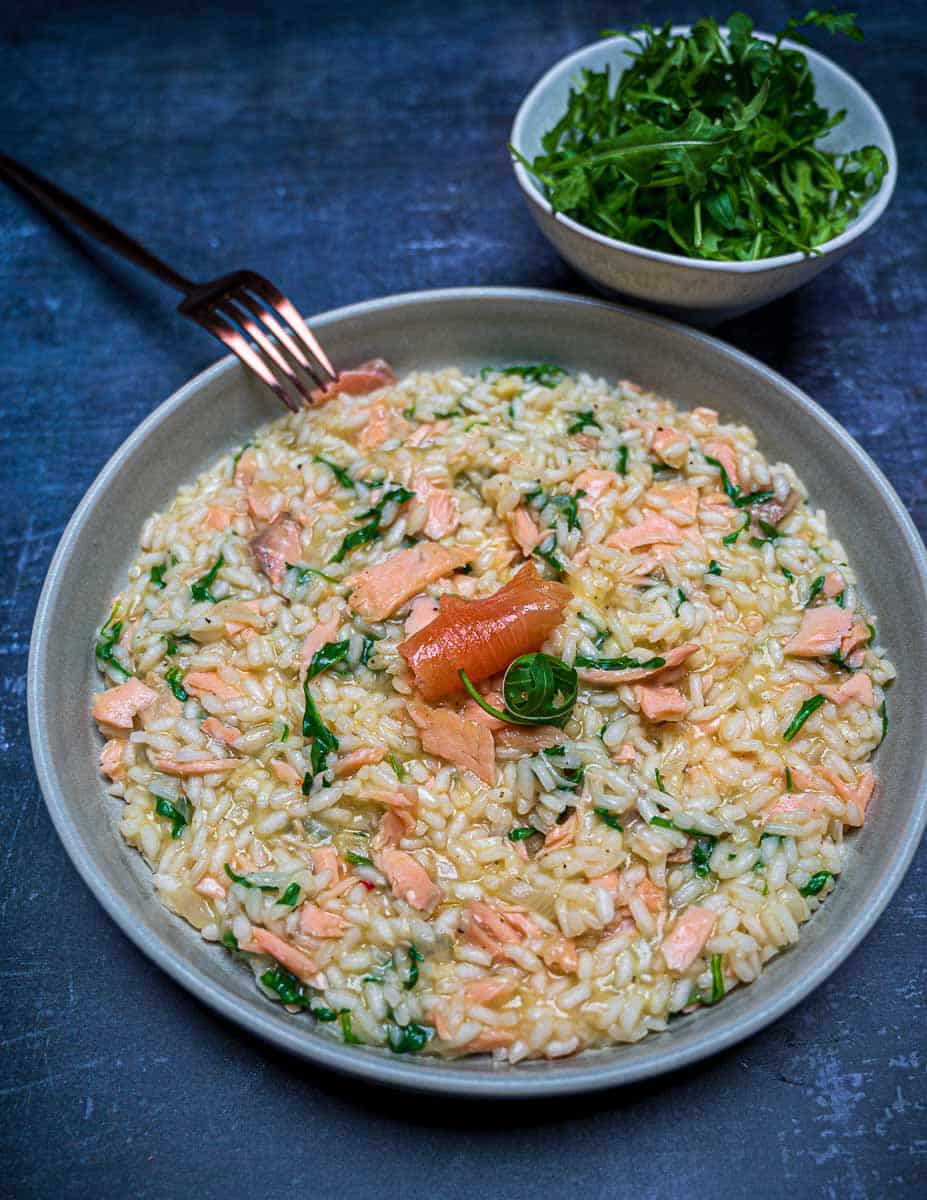 Recipe tips for the best smoked salmon risotto
Never wash the rice you're using for risotto. This will remove the starch and your risotto won't be creamy.
It's a fact of life that you have to stir a risotto, but make sure you don't overdo it. If you stir it too often, you're letting air in, and the texture will be a bit gluey. You'll need to find the right balance with stirring, because not doing it often enough may result in the rice getting burned on the bottom of the pan.
Cooking times might vary a bit depending on your heat source an how quickly your rice soaks up the stock. Even if you think it's going too slow, resist the temptation to crank up the heat — risotto is a labour of love, so be patient.
If you liked this smoked salmon risotto recipe, you may also like:
Creamy Chicken Risotto with Mushrooms
One-Pot Gorgonzola, Walnut and Spinach Pasta (Pasta Gorgonzola e Noci)
Looking for more delicious inspiration? Follow Skinny Spatula on Instagram, Facebook, and Pinterest!
Yield: 4
Creamy Smoked Salmon and Rocket Risotto
This mouthwatering smoked salmon risotto is naturally creamy for a luscious yet light dinner. It gets an extra kick from the rocket and it's super easy to make with just a handful of ingredients. 
Ingredients
40 g (⅓ stick) butter
2 small shallots
320 g (11 oz) carnaroli rice
200 g (7 oz) smoked salmon
50 ml (¼ cup) dry white wine
1 litre (4 cups) vegetable stock
Rocket salad, a handful
Salt and pepper
Instructions
In a large pan, melt the butter over medium heat and fry the shallots for 1 minute.
Add the rice to the pan and toast it for 1-2 minutes, stirring often. Add the white wine and cook for another minute until it evaporates.
Start adding the stock. Do it gradually, in batches of about 200 ml (1 cup). Cook until the liquid is mostly absorbed, then add some more until all the stock is gone. The rice should be al dente when you finish, and you should still have some liquid left before adding the rest of the ingredients as the rice will continue to absorb it.
Stir in the smoked salmon and cook for another minute, then add the rocket. Give it a good stir, season to taste, and serve immediately.
Nutrition Information:
Yield:
4
Serving Size:
1
Amount Per Serving:
Calories:

274
Total Fat:

11g
Saturated Fat:

6g
Trans Fat:

0g
Unsaturated Fat:

4g
Cholesterol:

33mg
Sodium:

1847mg
Carbohydrates:

29g
Fiber:

1g
Sugar:

3g
Protein:

12g
Nutritional information is an estimate provided by an online nutrition calculator.