Creamy Italian sausage gnocchi soup is thick, rich and the very definition of comfort food. Pillowy gnocchi cosy up with crispy bits of Italian sausage to create a soup that will warm up your belly and soul.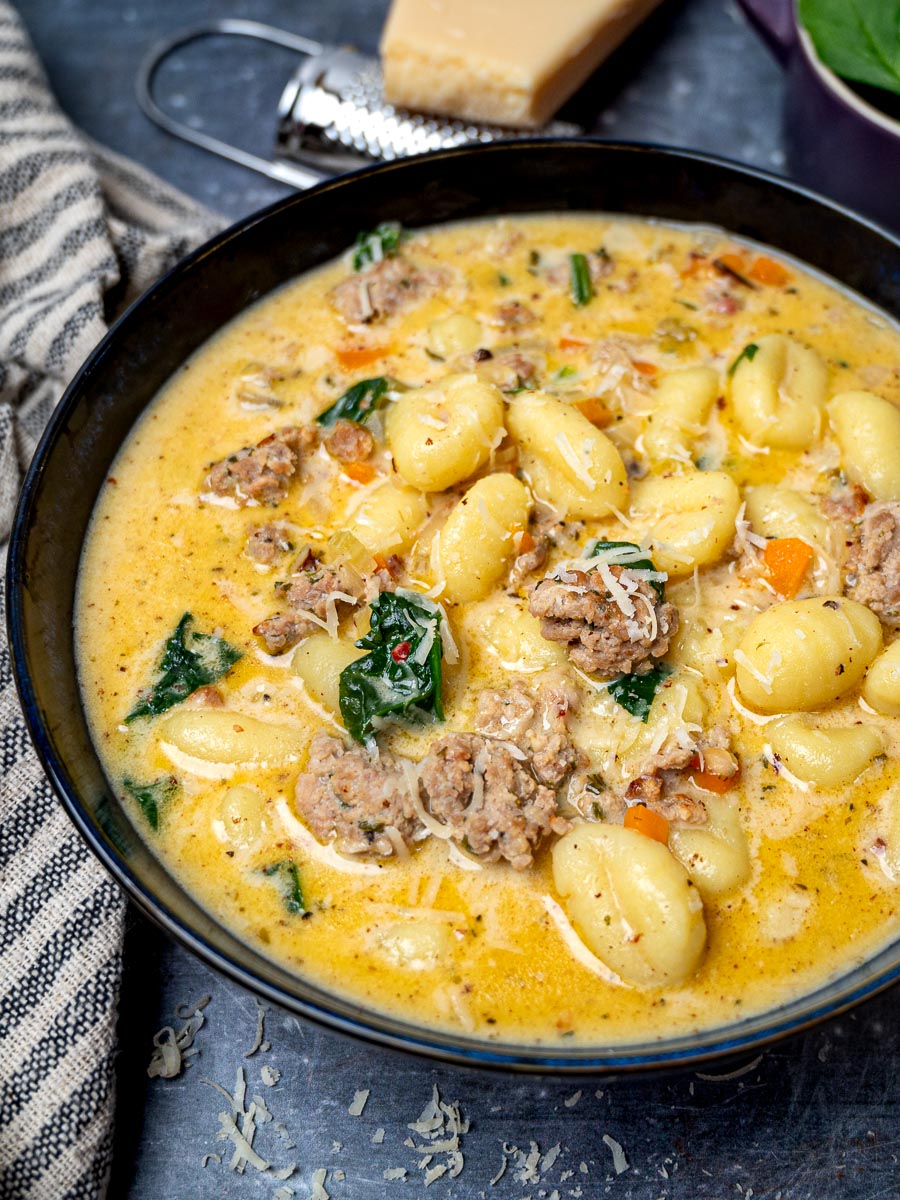 A creamy, rich broth infused with Italian flavours? Fluffy gnocchi AND crumbled Italian sausage browned until slightly crispy? Count me in, please!
As you might have already noticed, I love all things Italian and I always come up with new reasons to cook yet another Italian-inspired meal.
This time, it was a pack of gnocchi that inspired this creamy Italian sausage soup.
I love gnocchi, and I typically buy multiple packs at once. This Gnocchi Carbonara is one of my favourite comfort meals, so I always make sure I have some gnocchi around just in case.
I'm also a bit of a soup addict, so this creamy Italian sausage gnocchi soup was bound to happen. It basically sums up my culinary philosophy, after all.
And if you're looking for a gnocchi soup that you can make in the Instant Pot, try this delicious chicken gnocchi soup!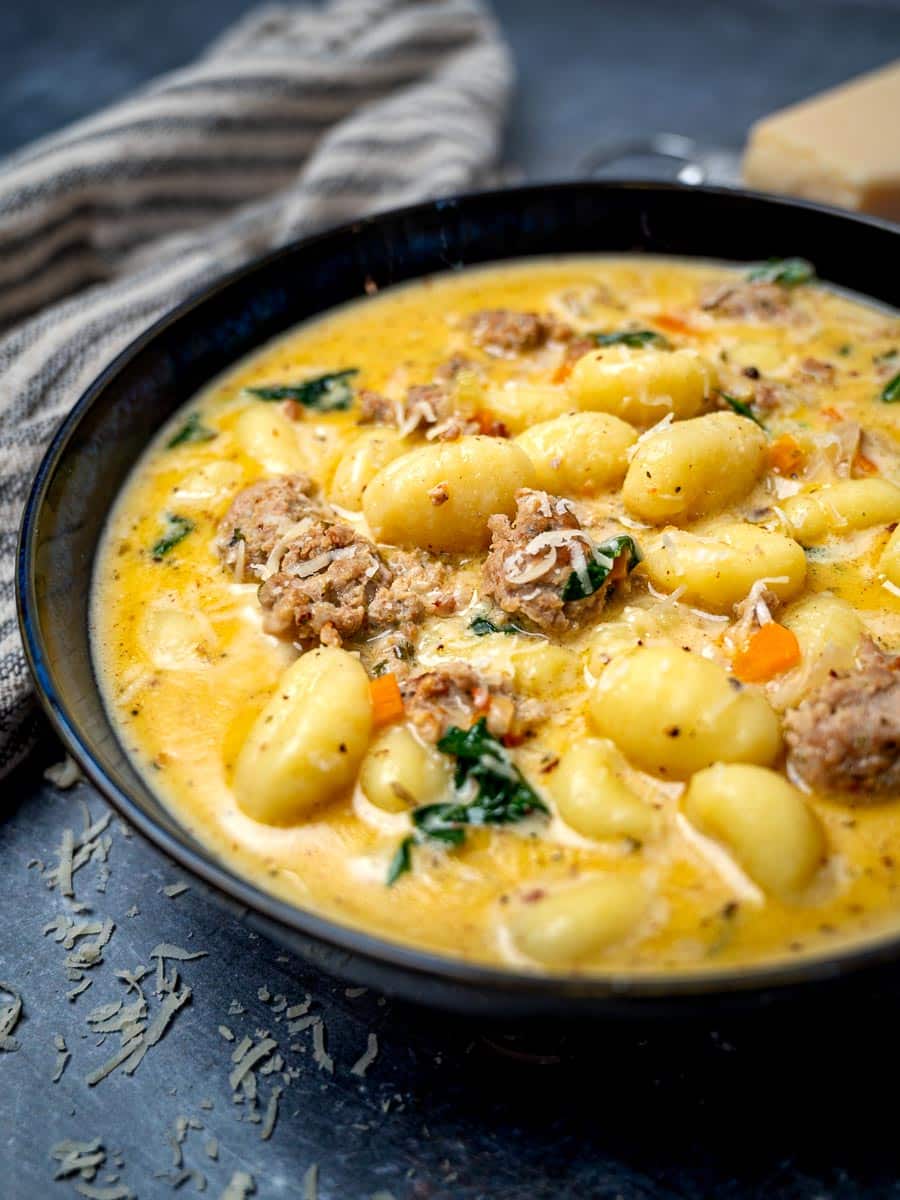 What do you need to make the soup?
To make this sausage and gnocchi soup, you need some quality Italian sausage and fresh or frozen gnocchi.
If you live in the UK, finding Italian sausages might not be that easy. I found some nice ones in M&S and sometimes in ASDA.
If you can't get your hands on them, use some Cumberland sausage instead.
As for gnocchi, I prefer to use fresh ones if possible, but frozen ones would work just as well.
Make sure you don't overcook them by following the instructions on the package.
How do you make Italian sausage gnocchi soup?
Heat the olive oil in a heavy-bottomed pot and fry the sausage for 4-5 minutes over medium-high heat until slightly browned, crumbling it with your spoon as it cooks.
Add the onion, carrot and celery and continue to cook for 2-3 minutes.
Stir in the garlic, Italian seasoning, and red chilli flakes and continue to cook for another minute until fragrant.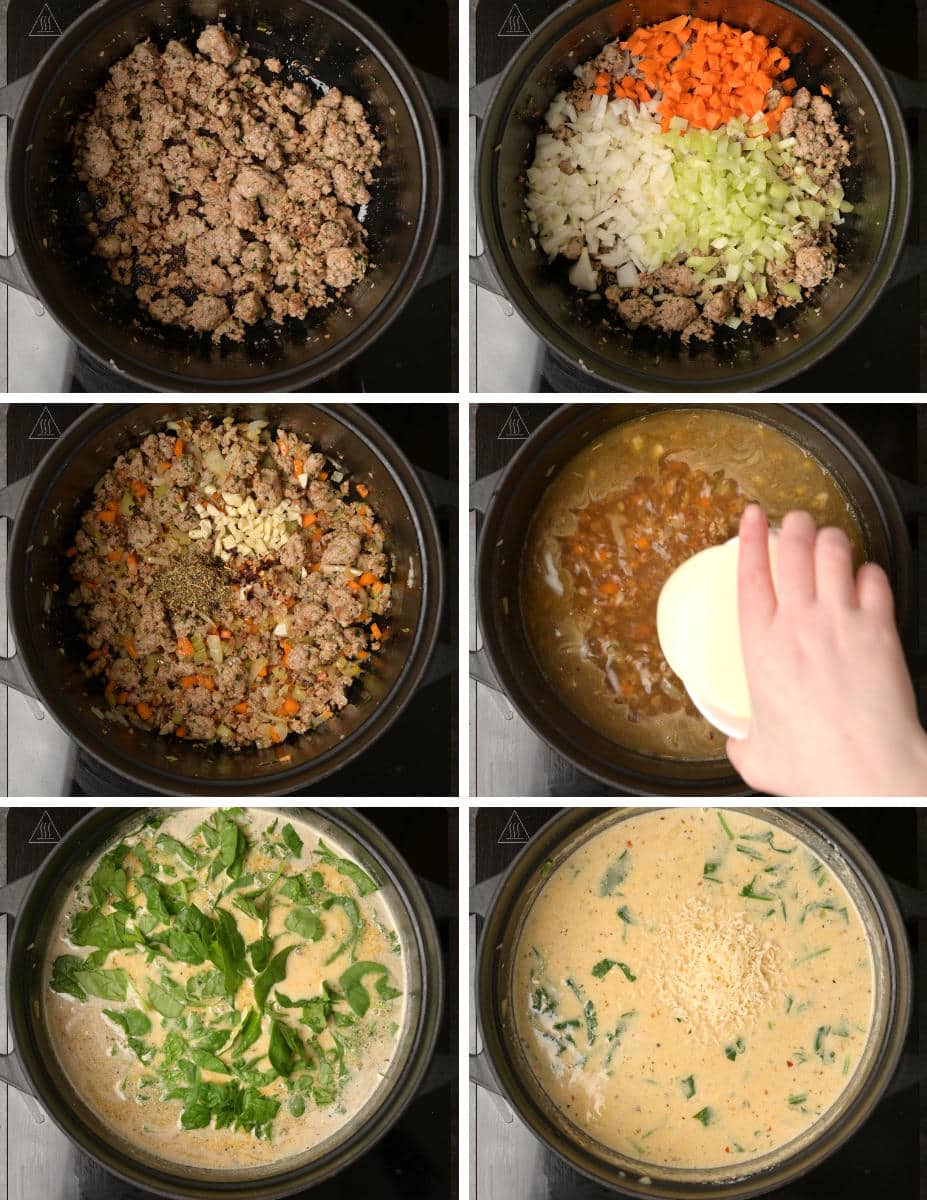 Stir in the white wine and cook for a minute, stirring often, until the alcohol evaporates almost completely.
Add the chicken stock, bring to a boil, then lower the heat and simmer for 10 minutes.
Stir in the double cream, then add the gnocchi and cook for 2-3 minutes or as specified on the instructions on the package.
Next, stir in the baby spinach and grated Parmesan, season to taste and serve immediately.
Make sausage gnocchi soup in the Instant Pot
This sausage gnocchi soup is a perfect candidate for the Instant Pot.
To make it in the pressure cooker, use the saute function to brown the sausage and saute the veggies (steps 1 - 3 in the recipe card).
Next, cook for 5 minutes on high pressure, then stir in the double cream and spinach.
Close the lid for a minute to allow the spinach to wilt, then stir in the Parmesan and season to taste.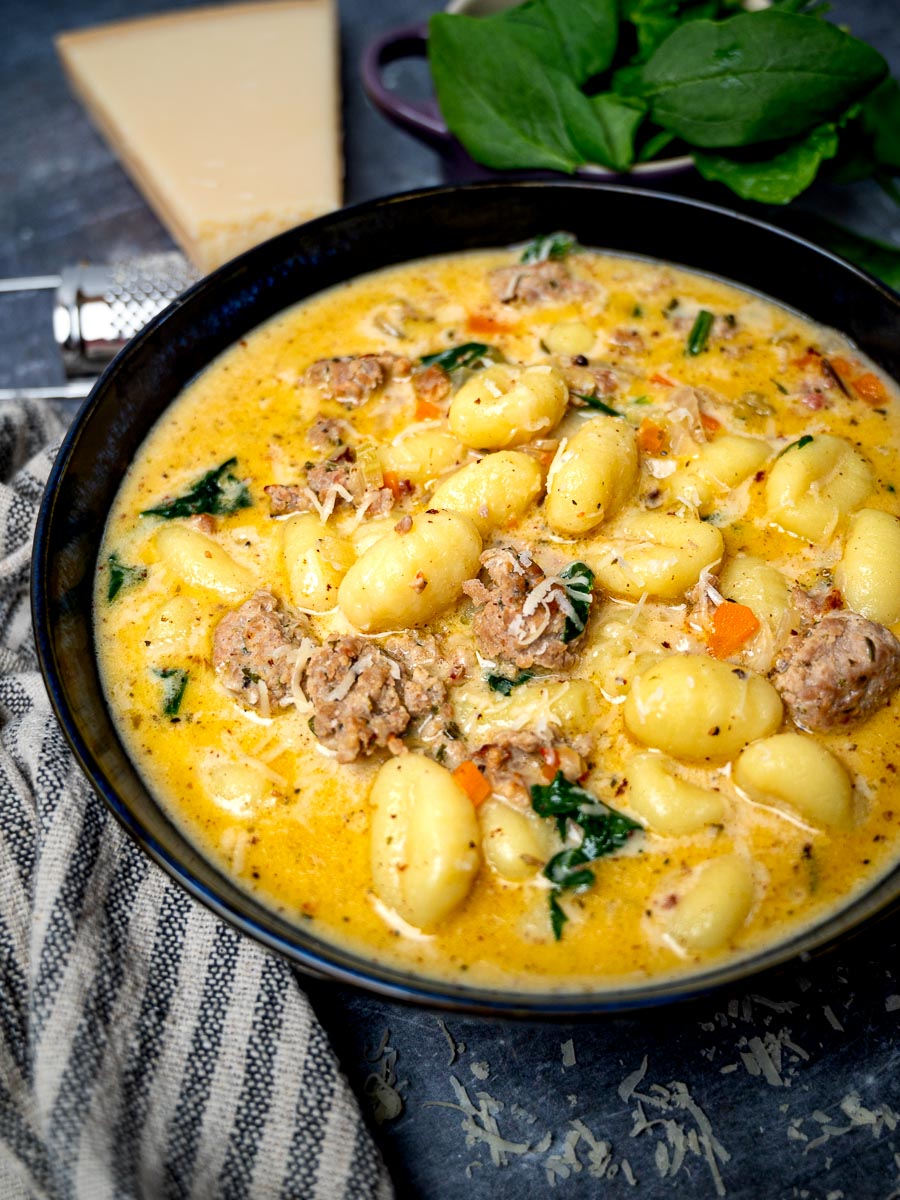 Make it vegan
Even though it doesn't seem like it, this soup can easily be made vegan.
There's an abundance of plant-based options in supermarkets these days, so simply use vegan Italian sausages, a plant-based cream and a vegan Parmesan substitute, and hey presto, you have a vegan gnocchi soup.
You can skip the Parmesan if you can't find a vegan alternative or use a tablespoon of nutritional yeast instead.
Recipe notes and tips
The leftovers (if you manage to have any) taste great when reheated. You can store the gnocchi soup in the refrigerator for 3 to 4 days in an airtight container.
You can also freeze the soup in freezer-safe containers (or freezer bags) for up to three months. Thaw the soup in the fridge overnight before reheating it on the stove or in the microwave.
You can use single cream (half and half) instead of double cream to cut down on calories, but the soup won't be quite as creamy.
If you liked this creamy Italian sausage gnocchi soup, you might also like some of my other delicious soup recipes:
Creamy Vegetarian Tortellini Soup
Creamy Spiced Chickpea Soup with Coconut and Lime
Vegan Harira (Moroccan Chickpea and Lentil Soup)
Hungry for more? 😄 Follow Skinny Spatula on Instagram, Facebook, and Pinterest!
Creamy Italian Sausage Gnocchi Soup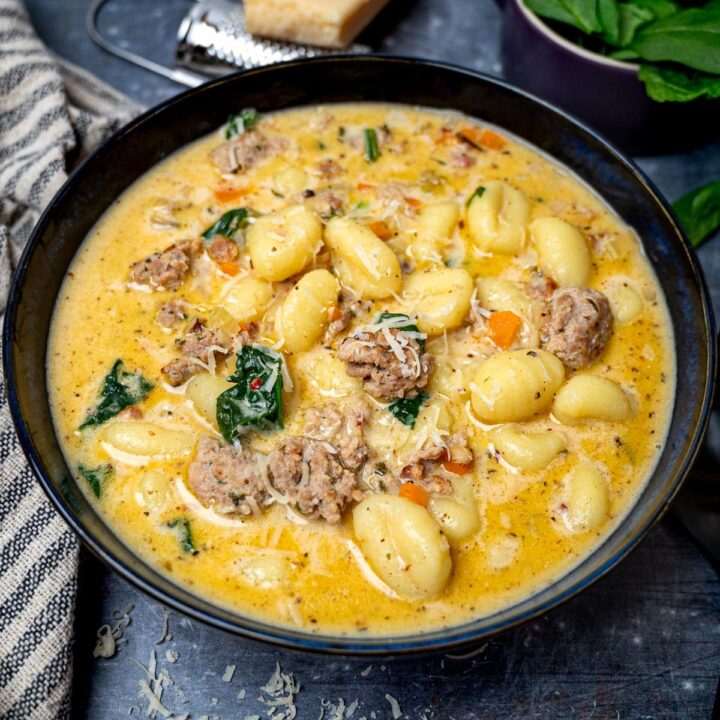 Ingredients
1 tablespoon olive oil
400 g (1 lb) Italian sausage, casings removed and cut into chunks
1 medium onion, finely diced
1 medium carrot, diced
2 celery sticks, diced
2 large garlic cloves, minced
1 teaspoon Italian seasoning
¼ teaspoon red chilli flakes
75 ml (⅓ cup) dry white wine
1 litre (4 cups) chicken stock
150 ml (¾ cup) double cream
500 g gnocchi
A handful baby spinach
30 g (¼ cup) freshly grated Parmesan
Nutrition Information:
Yield:
6
Serving Size:
1
Amount Per Serving:
Calories:

639
Total Fat:

36g
Saturated Fat:

15g
Trans Fat:

0g
Unsaturated Fat:

22g
Cholesterol:

105mg
Sodium:

933mg
Carbohydrates:

48g
Fiber:

3g
Sugar:

7g
Protein:

27g
Nutritional information is an estimate provided by an online nutrition calculator.